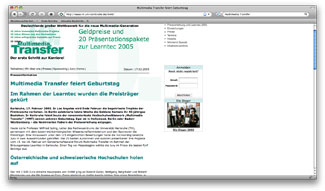 www.rz.uni-karlsruhe.de/mmt
Multimedia Transfer 2005 is a multimedia software competition which the Computer Center of the University of Karlsruhe is hosting for the 10th time.
The award targets students as well as youg scientists and entrepreneurs. Its categories are E-Learning, Creative Design, Tools, Web Technologies, Hot Trends, and Barrier-free Internet. The cash awards total 10,000 Euro
For further information (in German), see http://www.rz.uni-karlsruhe.de/mmt. After an evaluation by a jury of 60 experts, the 20 leading submissions will be presented at Learntec, a conference on electronic learning in Karlsruhe. The final selection of the award winners will be made there.